Study Material for SSC CGL, CHSL, MTS, Prasar Bharti, FCI Exams : Sitting Arrangements
Sitting Arrangements
Different Types of Sitting Arrangement
There are two types of questions which are asked in various competitions
Type 1 Arrangement around a Closed Path
In such questions, we are giving some clues regarding arrangement. We have apply these clues on a circle and using these information, we have to find the solutions of questions associated with them. In this arrangement, we also deal square/pentagon/ hexagon, questions.
Before solving type 1 questions, following facts are necessary to know.
For Circular Arrangement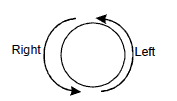 1. Left movement also called clockwise rotation.
2. Right movement also called anticlockwise rotation.
For Rectangular Arrangement

For Hexagonal Arrangement
---