TELANGANA PSC FOREST BEAT OFFICER JOBS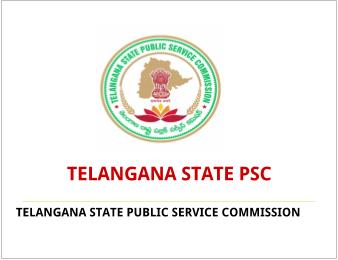 ---
TELANGANA PSC 1800+ FOREST BEAT OFFICER JOBS
---
(Notification) TELANGANA STATE PUBLIC SERVICE COMMISSION: HYDERABAD
FOREST BEAT OFFICER IN FOREST DEPARTMENT (EFS&T) (GENERAL RECRUITMENT)
Applications are invited Online from qualified candidates through the proforma Application to be made available on Commission's WEBSITE (www.tspsc.gov.in) to the post of Forest Beat Officer in Forest Department (EFS&T) in the state of Telangana.
Post Details:
| | | | | |
| --- | --- | --- | --- | --- |
| Post Code | Name of the Post | No. of Vacancies | Age as on 01/07/2017 Min. Max. | Scale of Pay Rs. |
| 1. | Forest Beat Officer | 1857 | 18-31 | 16,400 - 49,870/- |

Age Limit:
Minimum 18 years & Maximum 31 years. The age is reckoned as on 01/07/2017 (Rule- 12 (1) (a) (v) of State and Subordinate Service Rules).
Minimum Age (18 years): A Candidate should not be born after 01/07/1999.
Maximum Age (31 years): A candidate should not be born before 02/07/1986.
The Upper Age limit will be relaxed as per Rules and will be calculated on the above lines.
Age Relaxations: The upper age limit prescribed above is however relaxable in the following
cases:
| | | |
| --- | --- | --- |
| Sl. No. | Category of candidates | Relaxation of age permissible |
| 1. | 2. | 3. |
| 1. | Retrenched temporary employees in the State Census Department with a minimum service of 6 months. | 3 Years |
| 2. | Telangana State Government Employees (Employees of TSRTC, Corporations, Municipalities etc. are not eligible). | 5 Years based on the length of regular service. |
| 3. | Ex-Service men | 3 years & length of service rendered in the armed forces. |
| 4. | N.C.C.(who have worked as Instructor in N.C.C.) | 3 Years & length of service rendered in the N.C.C. |
| 5. | SC/ST and BCs | 5 Years |
Exam FEE:
 (Remittance of Fee) Each applicant must pay Rs. 200/- (RUPEES TWO HUNDRED ONLY) towards Online Application Processing Fee. This apart, the applicants have to pay RS. 80/- (RUPEES EIGHTY ONLY) towards Examination Fee. However, the following category of candidates are exempted from payment of Examination fee.
a) SC, ST & BC candidates of Telangana State
b) Unemployed applicants in the age group of 18 to 31 years of Telangana State (They have to submit declaration at an appropriate time to the Commission that they are unemployed).
c) Ex-service men
N.B.:- BC's, SC's and ST's belonging to other states are not exempted from payment of Application processing Fee and Examination Fee and they are not entitled for any kind of reservation.
Mode of Payment of Fee:
The Fee mentioned at Para-I(6)(a) is to be paid online through SBI ePay duly following online instructions once the application form details are submitted by filling TSPSC ID, date of birth and other particulars.
The fee once remitted, shall not be refunded or adjusted under any circumstances. Failure to pay the examination fee, application fee, wherever applicable will entail total rejection of application. The list of Banks providing service for the purpose of online remittance of fee is given in ANNEXURE – II.
HOW TO APPLY:
A) HOW TO UPLOAD THE APPLICATION FORM:
(i) The Applicants have to read the User Guide for Online Submission of Applications and then proceed further.
I Step: The Candidate has to visit the WEBSITE http://www.tspsc.gov.in and fill the OTR application if not registered earlier to obtain TSPSC ID. While filling the same, the candidates have to ensure that there are no mistakes in it. The Commission bears no responsibility for the mistakes, if any, made by the candidates.
II STEP: The candidates have to visit the website http://www.tspsc.gov.in to submit Application and Click on the Link with Notification Number and Name, provide TSPSC ID and Date of Birth to proceed further.
Candidate has to verify the details fetched from various databases pertaining to qualification, caste, Aadhar etc, and displayed on the screen. If the displayed details are correct he/she has to click Yes on confirm button. If any details are not displayed or need to be changed, he/she should click No on confirm button. If details are not displayed a text box will open and candidate has to feed the details manually. Required documents have to be uploaded by clicking the upload button. In addition to the details obtained from OTR database, Notification specific details such as Examination Centre opted, required qualification, university details, eligibility and accepting declarations etc. are to be filled by the candidate. Preview and Edit facility is available to make changes and submit for proceeding to Next step of making online payment of fee.
III STEP:-Immediately on entering the above details, the applicant will get payment gateway of SBI ePay.
IV STEP:-The applicant should pay the prescribed fee as specified through any of the four modes of payment online. Separate instructions have to be followed for each mode of payment.
V STEP:-After payment of fee, the PDF Application will be generated which contains the particulars furnished by the candidates. The ID No in the PDF Application form has to be quoted for future reference/correspondence.
i) Candidate shall note that, the details available with OTR database at the time of submitting the application will be considered for the purpose of this notification. If, any changes are made by the candidate to OTR database at a later date will not be considered for the purpose of this Notification.
ii) Hand written/ Typed/ Photostat copies/ outside printed Application Form will not be accepted and liable for rejection.
iii) The applicants should be willing to serve anywhere in Telangana State.
iv) For any Technical problems related to Online submission and downloading of Hall Tickets please contact 040-23120301 or 040-23120302(Call Time: 10.30 A.M to 1.00 P.M & 1.30 P.M to 5.30 P.M)
PROCEDURE OF SELECTION:
THE SELECTION OF CANDIDATES FOR APPOINTMENT TO THE POSTS WILL BE MADE BY WRITTEN EXAMINATION (OBJECTIVE TYPE), WALKING TEST AND MEDICAL TEST AS PER RULES FOR THOSE QUALIFIED IN WRITTEN EXAMINATION.
i) Examination (Objective Type) by Online / OMR based.
ii) Walking Test
iii) Medical Test
THE FINAL SELECTION OF THESE POSTS WILL BE BASED ON MARKS SECURED IN THE EXAMINATION EITHER ONLINE OR OMR BASED, DULY GIVING WEIGHTAGE (BONUS MARKS) TO THE NCC CERTIFICATE HOLDERS AS PER RULES.
1. Those candidates who qualify in the Examination in order of merit will be called for verification of Certificates, Community and Category wise for the vacancies available as required. The minimum qualifying marks for Selection are OCs 40%, BCs 35% SCs and STs 30%. The minimum qualifying marks are relaxable in the case of SC/ST/BC at the discretion of the Commission.
2. The candidates will be selected and allotted to Service/ Department as per their rank in the merit list and as per District Preference for allotment of candidates against vacancies and for the vacancies available.
N.B.: Mere securing minimum qualifying marks does not vest any right in a candidate for being considered for selection.
3. The appearance in all the paper/papers at the Written Examination as per rules is compulsory. Absence in any of the paper/papers will automatically render his candidature as disqualified.
4. Candidates have to produce Original documents and other particulars on the day of verification itself. If candidate fails to produce any of the required certificates and if the particulars furnished by him / her in the Application do not tally with the Original documents produced him / her, then his / her candidature will be rejected/disqualified without any further correspondence. As candidature for the recruitment is processed through Computer/Electronic devices based on the particulars furnished in the Application Form, the candidate is advised to fill in all the relevant particulars carefully.
5. The preference opted by candidates in respect of posts, District etc., in the application form are only indicative for being considered to the extent possible but not binding or limiting the Commission's powers conferred under Article 315 and 320 of the Constitution of India. Therefore, the Commission has the power to assign a successful candidate to any of the notified posts for which he/she is qualified and eligible, subject to fulfilling the
selection criterion. Mere claim of preference for any District for allotment against vacancy does not confer a right to selection for that District in particular or any District in General.
6. The appointment of selected candidates will be subject to their being found medically fit in the appropriate Medical Examination, and if he/she is of sound health, active habits free from any bodily defect or infirmity.
SCHEME AND SYLLABUS FOR THE POST OF FOREST BEAT OFFICERS IN FOREST DEPARTMENT (EFS&T)
Scheme of Examination

Written Examination (Objective Type)
No. of Questions
Duration (Minutes)
Maximum Marks
Paper. I. General Knowledge
100
90
100
Paper. II. General Mathematics
100
90
100
 
Total
200