(Sample Material) SSC CGL (Tier -3) Study Kit "Essay - "Resource management in the Indian context"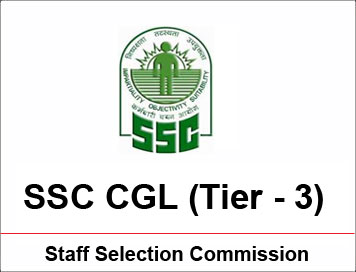 Sample Materials of SSC CGL (Tier -3) Study Kit
Subject: Essay
Topic: Resource management in the Indian context
The process of using a company's resources in the most efficient way possible. These resources can include tangible resources such as goods and equipment, financial resources, and labor resources such as employees. Resource management can include ideas such as making sure one has enough physical resources for one's business, but not an overabundance so that products won't get used, or making sure that people are assigned to tasks that will keep them busy and not have too much downtime.
The Natural Resources Management (NRM) program of InsPIRE offers innovative management systems that for efficient utilization and conservation of India's natural resources, especially in issues related to agriculture, water, forest, biodiversity and wildlife management. The NRM program works closely with policy-makers, foresters, scientists, research institutions and non-governmental organizations in India and globally across several countries. The expertise of the group lies in working with rural communities, institutions, local & national NGOs, and the central & state governments providing services viz. Project Management, Sector Strategy & Policy Reviews, Technical Assistance, Program Implementation, Action Research, Assessments, Comprehensive Monitoring & Evaluation and Capacity Building.
Specifically, the strengths are in:
 Climate change adaptation

 Cliate-induced vulnerability and•resilience

 Forest management

 Biodiversity conservation

 Livelihood security

 Renewable Energy

 REDD+

 Gender development

 Soil and Water conservation

 Governance issues
With the global emphasis on climate change, the program has evolved itself over the years to include vulnerability assessments and identification of adaptation options into its area of work. Monitoring and evaluation (M&E) is another key area where the program has demonstrated its capability in the past. The Adaptation Group comprises of an inter-disciplinary team of professionals ranging from social sector & rural development, environmental management, renewable energy, economics and statistics. The group's wider mandate is to work towards contributing to the larger global process of building climate resilient communities, systems and processes that help adapt to & mitigate anthropogenic & climate-induced rural & urban vulnerabilities. To enhance the effectiveness of actions, conscious efforts are being taken by the group to undertake action research studies, vulnerability assessments and pilot-demonstrate successful adaptation strategies.
 Promoting adaptation through enhancing livelihoods & climate resilience

 Climate-induced vulnerability & risk assessments and designing adaptation strategies

 Monitoring and evaluation (M&E) for Rural Development projects and Central & State Government programs

 Policy research on NRM, Climate change & gender issues

 Renewable Energy Technologies (RETs) implementation

 Studies on Disaster Risk Reduction

 Research studies on REDD+

 Incentive-based mechanisms and environmental economics• Training and Capacity building
The group is working with policy makers such as the Ministry of New and Renewable Energy (MNRE), Ministry of Environment and Forests (MoEF), Ministry of Rural Development (MoRD), Ministry of Power (MoP); International and bilateral / multilateral agencies such as DFID, UNDP, GTZ, JICA, KfW, USAID, IUCN, World Bank, European Commission, UNIDO, UNICEF, Oxfam India, Rockefeller Foundation and State Governments in order to implement & monitor important programs and provide policy inputs. A mix of action research studies, field implementation and policy research studies in the context of promoting adaptation and livelihood resilience have been undertaken in the past and continue to be. In a short span of two years, new & emerging areas and cross-sectoral themes & projects have been undertaken to suit the group's mandate. Project offices in Uttar Pradesh, Madhya Pradesh, Chhattisgarh and Orissa have also been established to carry out the body of works in the respective states.
Biodiversity Conservation Group
The Biodiversity Conservation Group was initiated as a new arm of Natural Resource Management division of InsPIRE Network for Environment in January 2007. With the objective to better address the issues related to loss and degeneration of the biological wealth of the nation, this group complements the existing efforts of InsPIRE Network for Environment in achieving its overall mission. The program envisions a biodiversity rich and ecologically secure India. With field presence in Arunachal Pradesh and Kerala, the group focuses on:
 Conservation of biodiversity in biologically rich terrestrial and aquatic ecosystems

 Promotion of enterprises that link conservation with livelihood security

 Promotion of new tools and instruments that enhances sustainable use of resources

 Assessment of impacts of climate change on biological diversity and

 Creating awareness on conservation of biological diversity

 Forest Management Group
The programmatic focus of the Forest Management (FM) Group has evolved considerably over the past few years. From a primarily forest management perspective, the FM group is now developing and implementing programs that encompass social, environmental and economic perspectives with regard to improved land husbandry and secure livelihoods for the poor. The group strives to be at the forefront of emerging innovative concepts and approaches by demonstrating them and facilitating knowledge sharing among stakeholders for their wider adoption.
The Landscape Approach, which recognizes and builds upon the inter-connectivity of systems, is currently one of the group's main thrust areas and it is investing itself at the grassroots level to demonstrate the relevance and benefits of such an approach to policy makers, researchers and other practitioners. Systems for continuous learning is another of the group's areas of work and it has been involved with a variety of stakeholders – from local communities to policy makers and international researchers – towards achieving this. The FM group's projects aim at streamlining learning within project management to improve project implementation. Further, by building on collaborations with national and international institutions and established associations with relevant ministries and government departments, the group aims to contribute significantly towards improved development policy making, planning and implementation.
The achievements during the past ten Five Year Plans, particularly during the past four decades in the agriculture – the Green Revolution era, have been phenomenal. Yet, India is home to one-fourth of the world's hungry and poor. The economic growth has generally been non-inclusive during the past 15 years or so. This paradoxical situation has arisen essentially due to the decelerated and sluggish growth of the agriculture sector. Realizing that nearly 70 per cent of our population is still rural with farming as the principal source of livelihood and employment, employing 60 per cent of our labour force, "Faster and More Inclusive Growth", as highlighted in the XI Plan Approach Paper, can not be achieved unless the agriculture sector registers the stipulated growth rate of 4.1 per cent and above.
Degradation and erosion of natural resources, namely, land, water, forest, biodiversity (plant, animal and microbial genetic resources), livestock and fisheries along with air and sunlight – those parts of the natural world that are used to produce food and other valued goods and services and which are essential for our survival and prosperity, are one of the root causes of the agrarian crisis in the country. No current or intended use of natural resources should condemn our children to endless toil or deprivation. The report highlights that soil health enhancement holds the key to raising small farm productivity. The Second or Evergreen Revolution is not possible without overcoming the widespread macro- and micro-nutrient deficiencies – the "hidden hunger". It also highlights that it is essential to revitalize the soil system through organic residues and materials. Likewise integrated management of water for maximizing productivity per drop of water has been emphasized.
The Working Group, as contained in this Report, critically examined the status and management scenario of the natural resources especially under rainfed conditions, identified the major challenges and issues in watershed based management of natural resources, particularly the equity, sustainability, productivity, income and livelihood issues. New modes of governance and prospects of congruence and synergy among various NRM programmes, and new approaches, strategies and policy options and actions to overcome the challenges have been suggested for the XI Plan.
This Report underpins that the stipulated overall GDP and agricultural growth rates during the XI Plan cannot be achieved with the ongoing shrinking and degradation of country's natural resources. Interlinked as producers and service providers, the resources must be judiciously conserved, developed and harnessed. The Group has suggested the following four major NRM programmes for the XI Five Year Plan:
 Comprehensive integrated development of multiple natural resources based on watershed approach;

 Situation specific and need-based development of individual natural resources, outside the watershed;

 Integrated farming systems based natural resources management in rainfed areas, inside and outside the watershed; and

 Decentralized food security system based on local crops and commodities from rainfed areas duly backed up by price support, procurement and inclusion in the PDS.
Among other things, the Report highlights the importance of governance and the role of National Rainfed Area Authority, National Rural Employment Guarantee Scheme, other relevant national bodies and programmes created in recent years, integration and harmonization of processes and guidelines, databases and resource mapping, information systems and participatory approaches in context of NRM. It is hoped that the proposed budgetary outlays and the expected outcomes will be affected during the XI Plan period.
Land
Of the country's total 142 m ha cultivated land, 57 m ha, 40 per cent of the total, is irrigated and the remaining 85 m ha is rainfed. Of the total geographical area of 329 m ha, about 146 m ha is classified as degraded, although varying estimates have been provided by different agencies. As generally agreed, the resources have been degrading fast, costing 11 to 26 per cent of the GDP during the 1980s and 1990s. Land distribution is highly skewed, more than 80 per cent of the farmers are small, marginal and sub-marginal and together own about 40 per cent of the total cultivated land, and increasing proportions of the holdings are becoming uneconomical. The soil health has been deteriorating, especially widespread micro-nutrient deficiencies (hidden hunger) and fast depleting carbon content, resulting in low and decelerated TFP growth rates.
Water
Water availability at the National level is reaching close to 1700 cubic meter (cu m) per capita – the threshold line, and if things do not improve, it will drop to water scarcity line by 2025. India annually receives about 350 million hectare meter (m h m) rain water, but almost half of it finds its way back to the sea, whereas the per capita water storage in India is only 210 cu m against 1110 cu m in China and 3145 cu m in Brazil. With nearly 60 m ha of net irrigated area and irrigation using over 80 per cent of all fresh water, India ranks first in the world in irrigated acreage. There is huge gap of 14 m ha between irrigation potential created and utilized, and the irrigation intensity is only 135 per cent which should be raised to 175 per cent or more. Besides low water use efficiency, there is high inequity in water use and irrigation development, let alone the fast receding aquifers and blocks after blocks turning "dark" and "grey" in certain parts of the country. The following water management strategies and actions are recommended:
 Undertake scientific and comprehensive assessment of water resources, monitor and evaluate water extraction, storage and use, and enhance income per unit of water consumed.

 Prevent/ discourage unsustainable use of groundwater resources in critical zones, develop the resources in unexploited zones, andincrease awareness of farmers and other stakeholders about the value and scarcity of water and negative fallouts of improper use.

 Develop and adopt water use efficient cost-effective and eco-friendly crops, cropping patterns, farming systems and technologies.

 Integrate rain, surface and ground waters and promote conjunctive use of poor quality and polluted waters.

 Institutionalize participatory management of water (Water Users Associations, including proactive women's participation), rationalize water pricing and operational and maintenance charges and distribution of irrigation water and equitable access to water as a common resource.
Forests
Forests, the green cover, are the natural resource infrastructure for agriculture/primary production and rural economic growth. India, harbouring 16 major forest types – tropical, temperate, alpine etc., is one of the 17 mega diversity centres and two biodiversity hot spots of the world. Per capita forest area in the country (0.064 ha) is one-tenth of that of the world's average, and 41 per cent of the country's forest cover is degraded. Despite the high importance of forests as source of food, fuel, fodder and fibre, and of linking conservation with community based forestry, allocation to the forestry sub-sector has rather been meager, less than 1 per cent of the Plan size. Moreover, most of the budget has to come from the State Governments which seldom meet their commitments and the forests continue to suffer. The share of the Central Government should be increased to at least 50 per cent of the total requirement, and the Tribal Bill, 2005 should be fully implemented and linked with the NREGA.
Livestock
Livestock accounts for about 27 per cent of the Agricultural GDP and is positively egalitarian in its distribution and in ownership by women, and is a major pillar of income, food and employment security. Possessing the world's largest livestock population, India ranks first in milk production, fifth in egg production and seventh in meat production. Total livestock output has been growing at a much faster rate of 3.6 per cent per annum against only 1.1 per cent registered for the crops sub-sector during the past decade. The targeted overall agricultural annual growth rate of 4.1 per cent during the XI Plan is stipulated to be achieved through a growth rate of about 8 per cent in the livestock sub-sector. In order to double the current growth rate to achieve the XI Plan target, constraints to increased livestock production and productivity (which is one-third of that of the world average) must be properly identified and addressed. Institutional supports and policy actions such as livestock insurance, market and price support, Livestock Feed and Fodder Corporation, Fodder Banks, Small Holder's Poultry Estates, etc. are needed towards achieving the rapid and inclusive growth.
Fisheries
Fisheries (53 per cent of the production from aquaculture) contribute significantly to food, nutrition, economic and employment securities, and fortunately are one of the fastest growing agricultural sub-sectors during the last three decades. Currently, fisheries contribute 4.6 per cent of the agricultural GDP, provide employment security to about 11 million people and annually earn foreign exchange worth Rs. 7,300 crore – about one-fifth of the value of the National agricultural export. The overall growth rate of fish production could be doubled to about 8 per cent towards achieving the overall agricultural growth rate of 4.1 per cent during the XI Plan. The following constraints should, however, be addressed to harness the potential: siltation and pollution of water bodies, poor management of production-processing-distribution chain, poor quality control of fish seed and feed, under-exploitation of available species such as cold water fishes like trout and Mahseer and air-breathing fishes like Mangur.
Weak infrastructure for landing and marketing and inadequate access to water bodies/tanks, multi-user conflicts and inappropriate leasing policies are other important constraints. Suitable leasing policies, reduced duties on feed and lower power tariffs can help accelerate production of scampi (prawn) in inland saline waterlogged areas, brackish water areas and other aquaculture systems, thus greatly contributing to employment, income and food security.
The newly established National Fisheries Development Board, among other things, should strongly support Integrated Coastal Zone Management and Aquarian Reforms, as also suggested by NCF.
Proposed Strategies and Interventions for NRM in the XI Plan
The "business as usual" will not do. NRM, particularly through the watershed approach, needs major adjustments and shifts in the strategies and approaches. The programme should be divided into three components:
 Comprehensive integrated development of multiple natural resources on watershed basis;

 Situation specific and need-based development of individual resources (out side the watersheds); and

 Integrated crop-livestock-fish-biomass farming system based management of natural resources, especially in rainfed areas (inside and outside the watershed programmes).

 A differentiated and need-based approach with substantial investment in natural resource management both in irrigated and rainfed areas in watershed as well as beyond watershed programmes is called for. The following programmatic interventions are suggested separately for each component:
Comprehensive Management of Natural Resources
The major steps are:
 Delineation, codification and prioritization of sub-watersheds for the preparation of perspective plan at the State level.

 Separation of capacity building phase from main implementation phase.

 Consideration of sub-watershed as a geo-hydrological unit at Programme Implementing Agency level and revenue village as a management unit at Watershed Committee level.

 Gram Panchayat to play governance role while stakeholders groups (UG / SHG etc.) should carry out execution of their own works and be accountable to Gram Sabha. Panchayatas should help to create durable assets in watersheds by linking the programme with NREGS.

 Preparation of State specific process guidelines to build upon their strengths and experiences.

 Integration of small size forest areas under watershed programmes through CFM in place of JFM as being successfully practiced in Andhra Pradesh.

 Enhancement in project duration from 5 to 10 years for adoption of comprehensive approach.

 Organisation of CBOs into sustainable bodies as a pre-project activity through complementary funding.
Location Specific Management of Natural Resources
The following need-based treatments, outside of watersheds, are priority actions:
 Reclamation of problem soils (saline, alkaline, acidic etc.); greater attention is called for acidic soils as the acidification is spreading fast.

 Comprehensive development of degraded lands assigned to resource poor families under land distribution programmes.

 Development of common land with revenue department through adequate investment.

 Revival of small size indigenous water harvesting structures.

 Investment on community borewells to retain ground water as a common property resource.
Towards Inclusiveness
Special attention should be paid towards inclusiveness and gender mainstreaming within the context of natural resource management. For this purpose, the following specific steps may be taken: (i) introducing special package for the communities which received land through distribution of surplus land, (ii) cultivation of fallow land for food crops through women SHGs, (iii) increased emphasis on tribal dominated forest based economy, (iv) resolving legal complications in treating CPR, (v) provision of drinking water to all households, (vi) equitable distribution of harvested water for irrigation and other livelihoods, (vii) provision of additional fund as seed money to women SHGs for development of livelihoods of only resource poor families, and (viii) equitable distribution of the additional resource that has been created in the watershed, even as prior right to previously existing resources are recognized and left largely undisturbed within a positive sum game framework.
Ensuring Sustainability
Emphasis should be placed equally on three majorcomponents: (i) institution and capacity building at different levels, (ii) management of natural resources and not merely development of natural resources and (iii) diversification and intensification of farming system as an integral part of natural resource management programme. The NREGS, both supporting skilled and unskilled jobs, should be integrated with the watershed programmes particularly for supporting the activities in the "post-treatment" phase. The PRIs should ensure this integration at the grassroot level. Experienced NGOs should also be involved in facilitating bottom-up planning and operations.