Current Affairs for SSC CGL Exams - 16 AUGUST 2019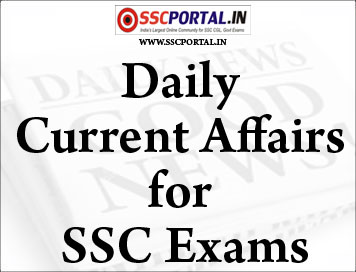 ---
Current Affairs for SSC CGL Exams - 16 AUGUST 2019
---
::NATIONAL::
Centre pushes for population control measures in its agenda
Noting that those keeping the size of their families small are practising a form of patriotism, Prime Minister NarendraModi, in his Independence Day speech on Thursday, set off speculation that a renewed governmental push for population control may be in the offing, as in the States such as Assam.

A total of 35 private member Bills regarding population control have been introduced in Parliament since Independence, with the Congress MPs contributing the largest number.

Going beyond educational and mass awareness programme on population control or policy interventions has always been a touchy issue, following incidents of coercive sterilisation, even forced vasectomies, during the Emergency between 1975 and 1977.

Manu Gaur heads Taxab, which works on population issues, and his Responsible Parenting Bill, 2019, was the model for Mr.Balyan's Bill. He acknowledges that there is a mental block, but says population control should not run aground overs fears of forced sterilisation.
Centre to go for mass campaign against single use plastic
Union Minister PrakashJavadekar on Thursday announced that a massive campaign will be launched to make India free of single-use plastic.

Mr.Javadekar made this announcement at Sau Paulo in Brazil, after Prime Minister NarendraModi in his Independence Day speech urged people to shun single-use plastic and go in for jute and cloth bags. Mr.Javadekar is in charge of the Environment Ministry.

In this regard, a series of meetings will be held with all stakeholders, including State governments, to chalk out a concrete plan to make it a people's campaign, Mr.Javadekar was quoted in an official statement issued by the Environment Ministry in New Delhi in the national capital.

"Prime Minister in his speech has laid a roadmap for five years. I am sure under his dynamic leadership, India would become a 5-trillion dollar economy sooner than later," the statement said quoting Mr.Javadekar, who is in Brazil to attend the ministerial meetings of the BRICS and BASIC countries.
::

ECONOMY

::
Agritech sector to solve supply chain issues
With Indian farmers facing post harvest losses amounting to a whopping ₹93,000 crore, a slew of agritech start-ups are now trying to bridge that gap with demand driven cold chains, warehouse monitoring solutions and market linkages that can significantly boost farmer income.

According to a new study from Information technology industry body NASSCOM, these efforts to create supply chain efficiency are the focus of more than 50% of India's booming agritech industry, which has received 300% more funding in the first half of 2019 than in the whole of 2018.

In its report "Agritech In India: Emerging Trends in 2019" released this week, NASSCOM noted that India is home to more than 450 startups in the agriculture technology sector, of the global total of about 3,100.

With regards to funding, the start-ups received 10 times more money in 2017-18 than in 2013-14. Over the same period, funding for global start-ups only doubled.

Corporates and investors are playing a vital role with over $200 million in the last 18 months coming for B2B start-ups, with technology innovations that are aimed directly at the farmer.

"India's agriculture sector is advancing steadily towards its digital transformation and the start-up ecosystem is playing a critical role here, bringing innovation and disruption in much-needed areas," says NASSCOM president DebjaniGhosh.
::

INTERNATIONAL

::
UNSC to have closed door meeting on Kashmir issue
The United Nations Security Council (UNSC) will meet on August 16 morning to discuss Kashmir (India's abrogation of Article 370), Poland's mission to the UN confirmed . The Presidency of the UNSC is currently with Poland.

Consultations are a way for Security Council members to informally take up an issue and the "closed" refers to the fact that the consultation is not open to the public and no record of statements is kept. The format also precludes Pakistan from participating, a diplomat said.

Earlier this week, Pakistan's Ambassador to the U.N., MaleehaLodhi had handed over a letter from the country's Foreign Minister, Shah MahmoodQureshi to the UNSC President and Polish Ambassador to the U.N., Joanna Wronecka, requesting that the Council take up the issue.

Diplomats in New Delhi have pointed out that China's push to bring back Kashmir to the UNSC shows that Beijing remains committed to its ties with Pakistan. Diplomats said the presentation of the Indian case by External Affairs Minister S. Jaishankar earlier this week has not influenced Beijing's decision makers.

A former Indian representative to the U.N. said the body will have to first address how it can take up Kashmir under the "India-Pakistan Subjects", which was relevant till 1971 but is known to have lapsed after U.N. recognised the Simla Agreement of 1972 between India and Pakistan.
::

SCIENCE & TECHNOLOGY

::
Study finds microplastics in arctic leading to air contamination
Minute microplastic particles have been detected in the Arctic and the Alps, carried by the wind and later washed out in the snow, according to a study that called for urgent research to assess the health risks of inhalation.

Every year, several million tonnes of plastic litter course through rivers and out to the oceans, where they are gradually broken down into smaller fragments through the motion of waves and the ultraviolet light of the sun.

The new study, conducted by scientists at Germany's Alfred Wegener Institute and Switzerland's Institute for Snow and Avalanche Research, found that microplastic particles can be transported tremendous distances through the atmosphere.

Ms. Bergmann and her colleagues used an infrared imaging technique to analyse samples collected between 2015 and 2017 from floating ice in the Fram Strait off Greenland, visiting five floes by helicopters or dinghies.

The team's hypothesis for airborne transportation builds on past research conducted on pollen, where experts confirmed that pollen from near the equator ends up in the Arctic.
::

SPORTS

::
Deepak Punia becomes India's junior world champion
Wrestler Deepak Punia has become India's first junior World Champion in 18 years. He claimed a gold medal at the Junior Worlds with a win over Russia's AlikShebzukhov at Tallinn, Estonia yesterday.

The score was tied 2-2 at the end of the 86-kg men's freestyle bout. However, Deepak was declared champion because he had scored the last point.

In 92-kg weight category, Vicky claimed bronze after he defeated BatmagnaiEnkhtuwacin of Mongolia 4-3. The President of Indian Wrestling Federation, BrijbhushanSharan Singh congratulated Deepak for his achievement.