Current Affairs for SSC CGL Exams - 15 AUGUST 2019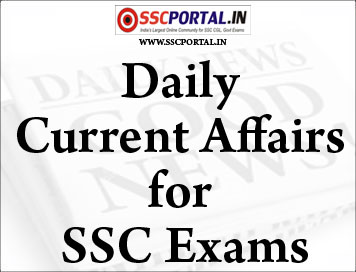 ---
Current Affairs for SSC CGL Exams - 15 AUGUST 2019
---
::NATIONAL::
Swachhbharat to include removal of plastic littering soon
In a nascent effort to look beyond toilets and kick off its ODF+ phase — that is, Open Defecation Free Plus — focussing on solid and liquid waste management, the Swachh Bharat Abhiyan (SBA) has included the prevalence of plastic litter and water-logging in villages as indicators of cleanliness in its 2019 rural survey.

A senior official explained that the protocol for plastic waste would call for bans on single use plastic, as well as the collection and sorting of waste at the Block level. If possible, plastic waste would be sent for recycling, or baled and shredded.

The survey aims to cover 18,000 sample villages — approximately 30 per rural district — and take feedback from over 2.5 crore villagers. In fact, citizen feedback will account for 35% of the ranking of districts.The survey will be conducted from August 14 to September 2.
Centre decides to ease mining norms in the country
The Union Environment Ministry plans to provide "temporary" forest clearances to prospective bidders for mines whose leases are set to expire in March 2020. The bulk of such mines are located in Odisha and Karnataka.

Officials said that the Environment Ministry would enable clearances to avoid a potential drop in iron production between 2020 and 2022, and catalyse moribund mining auctions.

The key change is that, unlike the previous years when mining leases were extended every 20 years, new leases would be issued for 50 years and they would be made available via an auction.
::

ECONOMY

::
Govt. set to boost infrastructure spending
In his address to the nation from the Red Fort on the occassion of Independence day, Prime Minister NarendraModi said, the government has decided to invest 100 lakh crore rupees in infrastructure building.MrModi said, India can become a 5 trillion dollar economy in the next five years.

Prime Minister called for improving exports to get more share in world economy. He said, wealth creation is important for the country as only then wealth distribution will happen. Mr Modisaid, those who create wealth need to be respected.

Prime Minister said, today there is a stable government in India and its policy regime is predictable. He said, the world is eager to explore trade with India.

Mr Modi said, the government has kept the inflation under check and supplement development. He added that the fundamentals of Indian economy are strong which will help the country to grow further.
::

INTERNATIONAL

::
U.S accuses India, China misusing developing nations tag
US President Donald Trump has said that India and China are no longer developing nations and both are taking advantage of developing nations tag from the World Trade Organization.

Addressing a gathering at Pennsylvania, Trump said India and China, the two economic giants from Asia, are no longer developing nations and they cannot take benefits from WTO. However, they are taking the advantage of a developing nation tag from the WTO, putting the US to disadvantage.

Trump, championing his America First policy, has been a vocal critic of India for levying allegedly high duties on US products. The US and China are currently engaged in a bruising trade war after Trump imposed punitive tariffs on Chinese goods. Beijing retaliated in the same manner by imposing tariffs on the American goods.

Earlier in July, Trump asked WTO to define how it designates developing country status, a move apparently aimed at singling out countries like China, Turkey and India which are getting lenient treatment under the global trade rules.
::

SCIENCE & TECHNOLOGY

::
Researchers use egg shells to synthesise natural bone implant material
Researchers from the Indian Institute of Technology-Hyderabad (IIT-H) and Dr. B.R. Ambedkar National Institute of Technology, Jalandhar, have developed a process by which bone implant materials can be synthesised from eggshells.

The research seeks to produce bone substitute materials such as tricalcium phosphate, a commonly-used bone substitute material, from natural sources. Eggshells are made of largely of minerals (95.1%) along with small amounts of proteins and water. Calcium is the main mineral component.

In modern medicine, damaged and missing bones are replaced with bone from either the patient or a donor or by using artificial materials containing calcium, such as Plaster of Paris, and more recently, phosphate compounds like hydroxyapatite and calcium phosphate.

For their study, researchers synthesised pure and thermally stable tricalcium phosphate nanopowder — powder a hundred thousand times smaller than the width of a single human hair — from eggshells. They used a milling process called 'ball milling' to produce these activated calcium phosphate powders.

Results showed that eggshell waste is promising enough to replace the commercially available tricalcium phosphate (produced by using harmful chemicals) and has the capability to develop implantable biomaterial for tissue regeneration, according to the research paper published in Ceramics International .