(Syllabus) Recruitment of Male & Female Sub Inspector at UP Police - 2015

(Syllabus) Recruitment of Male & Female Sub Inspector at UP Police - 2015
Exam Syllabus for Male & Female Candidates: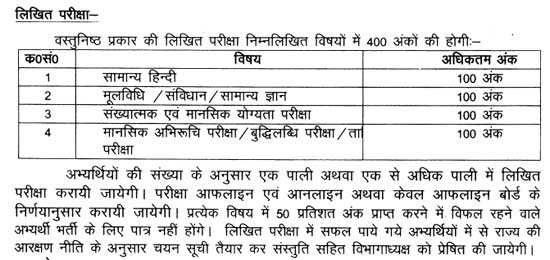 S.No.
Test Type
Subject
Maks
1
Objective Type
Hindi
100
2
Law/Constitution/General Knowledge
100
3
Numerical and Mental Ability Test
100
4
Mental Aptitude Test/Intelligence Test/Test of Reasoning
100
General Hindi
Comprehension.
Letter Writing.
Word Knowledge.
Use of Words.
Antonyms.
Synonyms.
One Word Substitutions.
Sentence Correction
Phrases, Idioms
Law and Constitution:
Indian Constitution.
Aim of Constitution.
Fundamental Rights.
Directive principles.
Rules & Regulations of constitutional Amendments.
All India Service.
Social Law related to Women & Children.
Reservation of SC/ ST
Environment.
Wild Life Conservation.
Human Rights.
Traffic Rules.
National Security Issues.
Principle of Crime Punishment.
Right of Self Defence.
General Knowledge about Law
General Knowledge
India and its Adjacent Countries.
Current Affairs – National & International.
Indian Geography.
Indian History.
Scientific Progress/Development.
National/International Awards.
Indian Languages.
Books.
Script.
Capital.
Currency.
Sports-Athlete.
Numerical Ability
Number System.
Simplification.
Decimal & Fraction.
HCF LCM.
Ratio & Proportion.
Percentage.
Profit & Loss.
Discount.
Simple Interest.
Compound Interest.
Partnership.
Time & Work.
Distance.
Use of Table & Graph.
Mensuration.
Miscellaneous.
 IQ Test
Relationship and Analogy Test.
Spotting out the dissimilar.
Series Completion.
Coding-Decoding.
Direction Sense Test.
Blood Relation.
Problems based on Alphabet.
Time sequence test.
Venn Diagram & chart type test.
Mathematical Ability Test.
Arranging in Order.
Reasoning
Analogies.
Similarities.
Differences.
Space visualization.
Problem Solving.
Analysis and Judgment.
Decision-making.
Visual memory.
Discrimination.
Observation.
Relationship.
Concepts.
Arithmetical Reasoning.
Verbal & Figure Classification.
Arithmetical Number Series.